5 Things to Consider When Choosing a Wood Floor
By Donna Boyle Schwartz

With the variety of woods, colors and finishes available today, shopping for a wood floor can be a bit overwhelming. Here are five things to know and consider when choosing the perfect wood floor for your home.
Homeowners evaluating new flooring owe it to themselves to consider the benefits and beauty of wood. Wood floors are comfortable, durable and surprisingly affordable, and nothing quite compares to the character and warmth they bring to every room in the house. While there are a myriad of choices available, not every type of wood flooring is suitable for every application. If you are shopping for a wood floor, here are five things to keep in mind.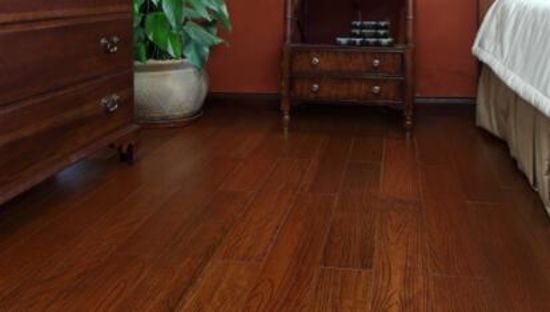 Type of Wood Flooring
There are primarily two types of wood flooring products—solid hardwood and engineered hardwood. Solid wood flooring is milled from solid wood logs, and is joined with a traditional tongue and groove along both the long and short edges. Solid wood is available prefinished or unfinished, in strips and planks ranging in thickness from 5/16″ to 3/4″. Strips are 1-1/2″ to 2-1/4″ wide and planks are 3″ to 8″ wide.
Engineered wood flooring is comprised of multiple layers of plywood and composite material, and topped with a layer of solid hardwood. Engineered wood flooring comes in thicknesses ranging from 3/8″ to 3/4″ and from 3″ up to 10″ wide; the hardwood layer on top ranges in thickness from .6 millimeters to 4 millimeters.
While both types offer the same beauty of real hardwood, the primary difference between solid hardwood and engineered flooring is in the floor's composition. "Since solid wood flooring is subject to expand and contract relative to a home's humidity it needs to be installed on the ground floor or above grade," explains Bill Schlegel, Chief Merchandising Officer for Lumber Liquidators. "Engineered flooring, which is more stable due to its multi-ply construction, can be installed on all levels of the home," adds Schlegel, "making it perfect for basements and bathrooms where dampness and moisture can be issues."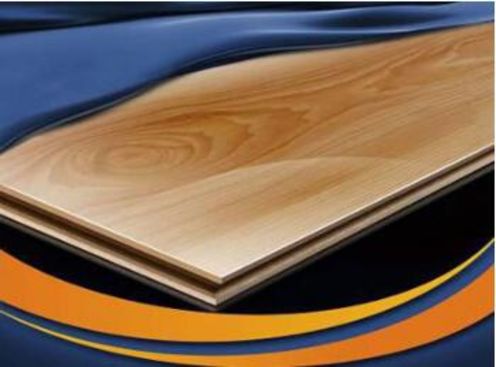 Choice of Wood Species
There are many different woods used in flooring, but some are harder and therefore more durable than others. "Day to day wear and tear is what concerns most people when shopping for a wood floor," says Schlegel, "and the benchmark for hardness in the U.S. is Red Oak." While Red and White Oak are the most common domestic wood floors, Hickory and Maple (harder than oak) and Walnut (softer) are also popular choices. Top selling exotic woods such as Brazilian Cherry, Brazilian Koa and Cumaru are among the hardest species available. "Naturally, the harder the wood, the better it will be for wear and installation in high-traffic areas of the home," Schlegel notes.
Grain, Color and Appearance
Because wood flooring comes in so many different species, styles and finishes, it is fairly easy to select a floor to match any room décor. If you have a country-style interior, wide plank floors with highly defined wood grains and a distressed appearance will be a good fit. For Colonial homes, consider wide, random plank width flooring in Oak and Maple. For traditional interiors, hardwood flooring in widths of 2-1/4″ to 3-1/4″ in Oak, Maple or Walnut, or parquet flooring, will be smart choices. Virtually any type of wood can be used in a contemporary setting, depending on what stain or finish is used—for example pewter, dark charcoal or whitewash finishes can transform any wood species into a modern masterpiece.
Type of Finish
The finish is the real determining factor in the overall appearance of a wood floor. The same wood species will look completely different finished in a clear gloss, versus a distressed, hand-scraped or wire-brush finish. "There are different gloss levels and finishing techniques that change the overall look of the wood floor," Schlegel notes. "Our Bellawood solid and engineered wood flooring in a mid to high gloss looks completely different in a low gloss matte finish," explains Schlegel; the latter imitating the look of an oil-rubbed European finish, but without the constant care and maintenance. Distressed, hand-scraped or wire-brush finishes will also be something to consider when shopping for a wood floor.
Flooring is sold either "unfinished" or "pre-finished." Unfinished floors are sanded and finished on-site, which provides for a consistent seal and prevents dirt and moisture from penetrating the seams between boards (floors typically receive one to three coats of sealant). Pre-finished flooring is factory-applied in a controlled setting, and typically receives seven to eight coats of sealant. "I definitely recommend pre-finished flooring, because it ensures a superior and consistent finish, and comes with a warranty,"
Cost and Installation
The cost of wood flooring depends on the type, the wood species and the finish. Typically, solid prefinished wood flooring runs from $2.49 to $12.69 per square foot. Prices on engineered prefinished wood flooring range from $1.69 to $8.79. The average cost of installation usually runs about half as much as the flooring but depends on the type of flooring and installation for your home.

Both solid wood and engineered wood flooring are installed by nailing, stapling or gluing planks to a subfloor. There are, however, a variety of new "click" engineered products available that can be installed easily and "floated" above the subfloor.

"Installation can definitely be an expensive proposition, especially with unfinished flooring," says Schlegel, "but competent DIYers can save money by doing the job themselves and purchasing prefinished flooring." Lumber Liquidators offers all of the tools and materials that a homeowner would need to install a wood floor. He adds, "I recommend saving money on installation and buying a better floor."